THE SPACE COWBOY
RECORD BREAKING STUNT PERFORMER & VISUAL ARTIST
THE SPACE COWBOY
RECORD BREAKING STUNT PERFORMER & VISUAL ARTIST
The Space Cowboy is a Multidisciplinary Artist from Byron Bay, Australia. A natural performer, he started presenting his unusual skills at the local markets at the age of eight and went on to  shock and amaze audiences in 40+ countries around the world. His numerous television appearances including 'Officially Amazing', 'Outrageous Acts Of Science' and AGT  have solidified his fame as a Sideshow Celebrity.
One of the most innovative Sword Swallowers alive today, The Space Cowboy performs an ever expanding list of daring Sideshow stunts and currently holds 55 Guinness World Records, the most ever held by an Australian! As he follows in the footsteps of legends such as Houdini his death defying displays are history in the making.
Recently exploding into the Visual Arts Scene. He has opened his own 'The Space Cowboy Gallery' with his first exhibition of his unique and strange body of work.
With over 20 million YouTube hits and fans and followers around the world, without a doubt The Space Cowboy leaves a lasting impression on those he meets. His legacy is to inspire people to push their boundaries and challenge the norm by witnessing his incredible Performances and Visual Art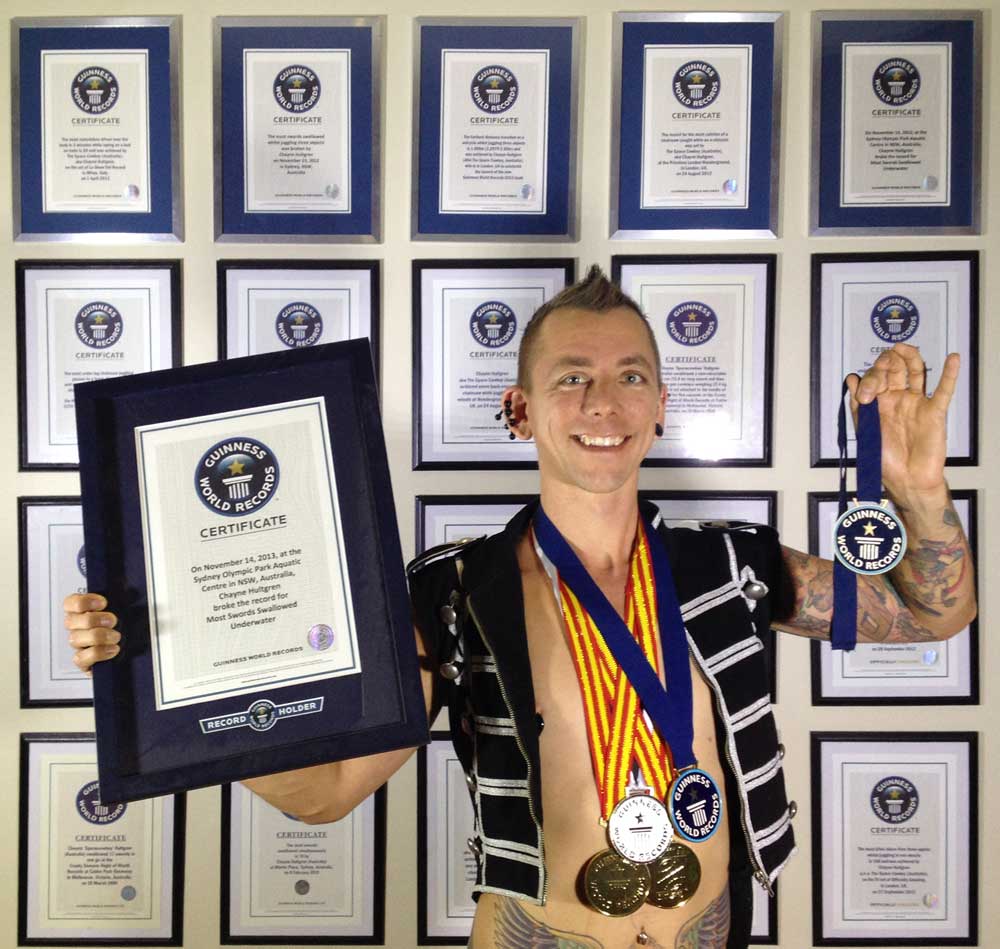 TELEVISION
The Space Cowboy is featured in countless television shows around the world including America, Canada, England, Italy, Spain, China, Japan, Germany, Indonesia, South America, New Zealand, Australia and many more.
Winner of the Science Channel's hit television show 'Outrageous acts of science' and a regular star of CBBC and BBC's 'Officially Amazing'.